Даташит поиск по электронным компонентам в формате pdf на русском языке. Бесплатная база содержит более 1 000 000 файлов доступных для скачивания. Воспользуйтесь приведенной ниже формой или ссылками для быстрого поиска (datasheet) по алфавиту.Если вы не нашли нужного Вам элемента, обратитесь к администрации проекта .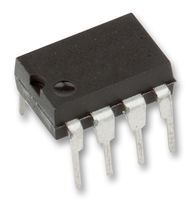 Наименование модели: PIC12C509A-04/P
Подробное описание
Описание: 8- бит микроконтроллеры (MCU) 1.5 Кб 41 RAM 6 I/O 4 МГц PDIP8
Краткое содержание документа:
PIC12C5XX
8-Pin, 8-Bit CMOS Microcontrollers
Devices included in this Data Sheet:
· PIC12C508 · PIC12C508A · PIC12C509 · PIC12C509A · PIC12CR509A · PIC12CE518 · PIC12CE519
Peripheral Features:
Спецификации:
Supply Voltage — Max: 5.5 В
Supply Voltage — Min: 2.5 В
Вид монтажа: Through Hole
Встроенный в чип АЦП: нет
Высота: 3.3 мм
Длина: 9.27 мм
Количество линий ввода/вывода: 5
Количество таймеров: 8
Рабочее напряжение питания: 2.5 В .
5.5 В
Рабочий диапазон температрур: 0 C . + 70 C
Размер ОЗУ: 41 B
Размер памяти программ: 1024 B
Серия процессора: PIC12
Тактовая частота максимальная: 4 МГц
Тип корпуса: PDIP-8
Тип памяти программ: EPROM
Упаковка: Tube
Шина данных: 8 бит
Ширина: 6.35 мм
Ядро: PIC
RoHS: да
| | | |
| --- | --- | --- |
| Номер в каталоге | Описание (Функция) | производитель |
| PIC12C509A | 8-Pin, 8-Bit CMOS Microcontrollers | Microchip Technology |
Другие PDF
недоступен.
PIC12C509A Datasheet PDF :
GENERAL DESCRIPTION
The PIC12C5XX from Microchip Technology is a family of low-cost, high performance, 8-bit, fully static, EEPROM/EPROM/ROM-based CMOS microcontrollers. It employs a RISC architecture with only 33 single word/single cycle instructions. All instructions are single cycle (1 µs) except for program branches which take two cycles. The PIC12C5XX delivers performance an order of magnitude higher than its competitors in the same price category. The 12-bit wide instructions are highly symmetrical resulting in 2:1 code compression over other 8-bit microcontrollers in its class. The easy to use and easy to remember instruction set reduces development time significantly.
High-Performance RISC CPU:
• Only 33 single word instructions to learn
• All instructions are single cycle (1 µs) except for program branches which are two-cycle
• Operating speed: DC — 4 MHz clock input DC — 1 µs instruction cycle
• 12-bit wide instructions
• 8-bit wide data path
• Seven special function hardware registers
• Two-level deep hardware stack
• Direct, indirect and relative addressing modes for data and instructions
• Internal 4 MHz RC oscillator with programmable calibration
• In-circuit serial programming
Peripheral Features:
• 8-bit real time clock/counter (TMR0) with 8-bit programmable prescaler
• Power-On Reset (POR)
• Device Reset Timer (DRT)
• Watchdog Timer (WDT) with its own on-chip RC oscillator for reliable operation
• Programmable code-protection
• 1,000,000 erase/write cycle EEPROM data memory
• EEPROM data retention > 40 years
• Power saving SLEEP mode
• Wake-up from SLEEP on pin change
• Internal weak pull-ups on I/O pins
• Internal pull-up on MCLR pin
• Selectable oscillator options:
— INTRC: Internal 4 MHz RC oscillator
— EXTRC: External low-cost RC oscillator
— XT: Standard crystal/resonator
— LP: Power saving, low frequency crystal